Initial Observations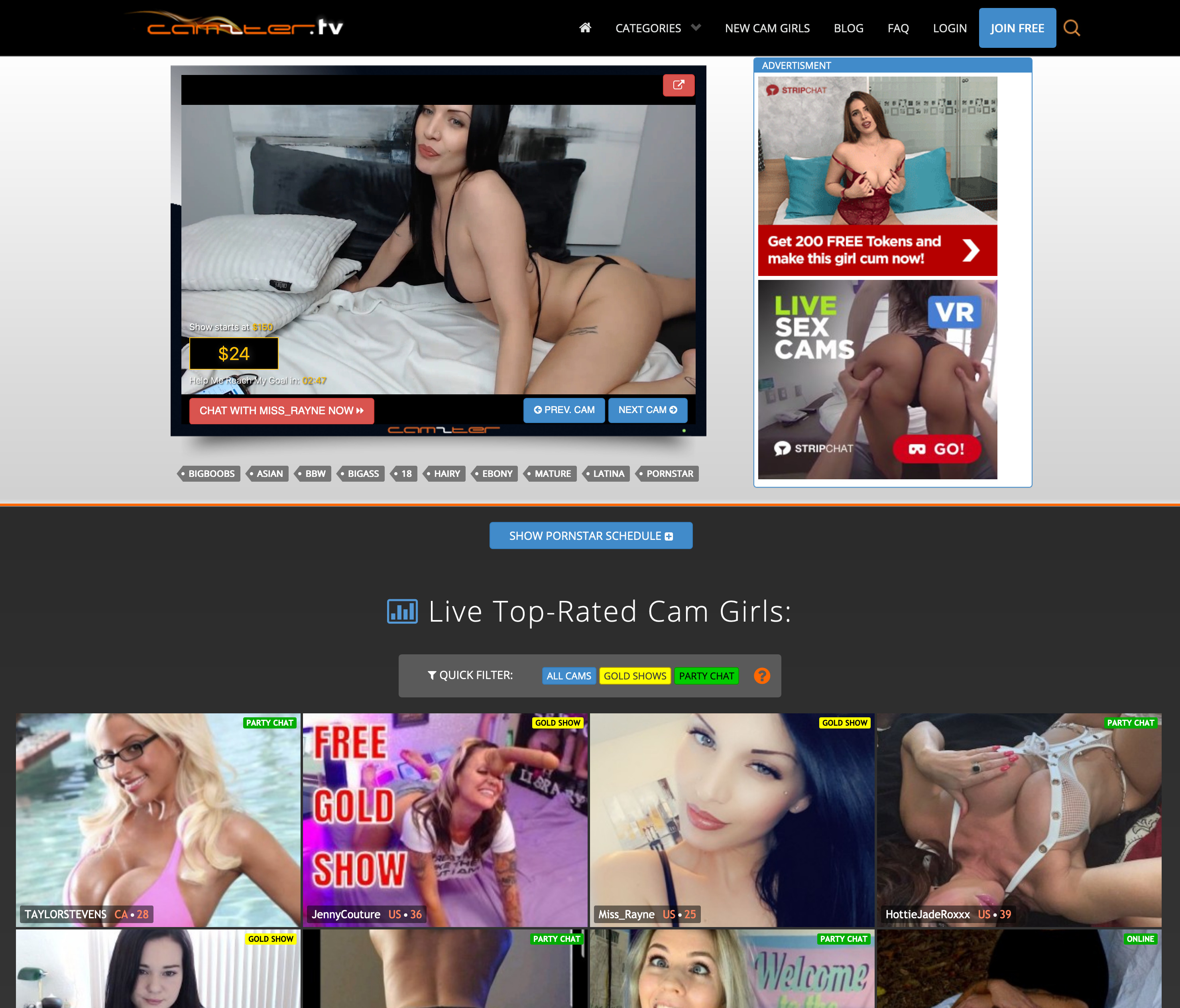 Camzter.com is an online chat site full of live video performers. It has males, females, transgender performers, and amateur couples of all types. You can browse by sex, age, looks, or whatever your particular kink may be. There are so many categories the odds in your favor that you'll find the perfect camgirl, camguy, or couple. Now, you could have an infinite number of performers but everyone knows if the video and audio quality are bad the number of performers doesn't matter. Thankfully, Camzter has plenty of streams with HD video and even helpfully categorizes if performers are doing something different such as using a smartphone to stream. Should you always want crystal-clear HD it is easy to get, which is pretty snazzy.
Credit Card Not Required = Really Cool
A major thing that's really cool is how you do not have to enter a credit card to sign-up on Camzter. There are sites out there where to even start browsing the cam performers you have to basically write down all your personal information--and then you discover there isn't even anyone good streaming! That isn't the case with Camzter. You can create an account with just an email and whatever you'd like your username to be. It is as easy as that to start chatting with performers. You will most likely want to add a credit card, however, so that you can have a premium membership and unlock all the goodness that it provides (and should you have any trouble adding a card, customer service is quite speedy and helpful). With a premium membership, you get awesome stuff like going into private sessions with performers, being able to email performers you enjoy, creating a, "Favorites," list and--this is especially helpful--getting alerts when a favorite performer of yours is online. Also, sometimes there are special porn star shows that occur which feature notable adult film pros getting raunchy for everyone, those are stellar.
Many Performance Options
Let's get back to the performers. So, once you find a performer you can join a general, "Party chat," which will have limited nudity. You can also buy gold to give to performers and some will have it set-up where they'll do certain private group performances once they get enough gold. These are called, "Gold shows," Essentially, a counter occurs during a party chat and you can check-out the performer. Then, you can choose to contribute gold, and if enough has been given to the performer a show will start that is exclusive to everyone who, "Bought in." This is handy as while a timer is counting down you can get a feel for if you are into a performer and want to take part in a gold show. Now, should you find someone in the general party chat you would like to chat with one-on-one that is totally an option too with the suitably named 1-on-1 shows. In fact, if you have your own cam you can do some video-chatting with a performer who gets you turned on by doing cam-2-cam shows that allow you to show just how excited you are! The variety of options is cool as opposed to a cam site that offers one method of chatting. If you do join it can be a bit overwhelming making-sense of all the different chatting options when you're brand-new, so make sure you read the sites' (helpfully detailed) instructions before you buy anything so you know for sure what you just bought!
Pros
Everything is easily categorized with tons of options for sex, age, kink, etc.
You don't have to enter a credit card to join, but can to unlock premium options.
Scheduled shows with popular porn stars are a cool feature.
Many performance options exist whether you want a private group show, one-on-one chat, or are into trying cam-2-cam.
If a favorite performer is not online you can set an alert to let you know when they are available.
Lots of high-quality video-streaming
Customer service is responsive.
Cons
The way you buy different types of performances and how gold works can be confusing if you're new to the site.
Don't expect too much nudity or action in the free party chat--although it makes sense performers want gold to get raunchy!
Conclusion
Camzter is a great site for finding and having fun with a wide range of performers. Compared to more bland cam websites that don't cater to kinks or offer many options Camzter blows them out of the water. The variety of performance and tipping options are great--even if they can be overwhelming at first--and the long list of fetishes that have a performer eager to discuss or do them is really helpful as well. If you are looking for a quality place to see sexy amateur performers (and shows with popular porn stars) than Camzter is a solid choice for sure.